Why Wait to Remodel Your Bathroom?
Your bathroom is one of the unsung heroes of home comfort – a room you visit it every day, without fail, when you're home. You've probably put it off a bath remodel for years because you thought it would be too expensive and inconvenient for your family. But what if we told you we could design and build your bathroom from the ground up in just a few days– and for an affordable price?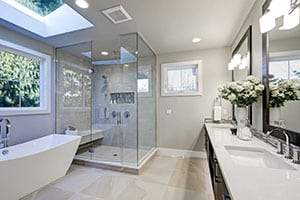 It's possible with our new One Day Bath Remodel service!
Our expert plumbers and contractors will help you create a custom bath solution that looks and works exactly the way you want it to – whether you want a full remodel or a simpler upgrade. You'll choose everything from the color and style of shower or bathtub right down to the finish of your fixtures, accessories, faucets, and curtain rods or shower doors!
We'll upgrade your bathroom using top quality, easy-to-clean multi-layer acrylic bath and shower products that resist chips, cracks, and dents. Options include:
Bath and shower replacement
Barrier–free showers
Wall surrounds
Step–through inserts, walk–in tubs and other Accessible solutions.
As always, we'll work neatly and get everything right the first time, meeting all requirements for building and permit codes. We'll also cover any installations we do with a lifetime limited warranty for even greater peace of mind.
Why You Need A Bathroom Remodel
Still aren't quite convinced? Here are some main reasons to remodel your bathroom sooner than later:
To add value to your home – A bathroom remodel provides a good return on investment if you plan to sell your New Jersey home down the room – especially if you're replacing an old, outdated or poorly functioning "facility."
To solve recurring plumbing problems – A slow-running faucet is one thing (clean those aerators!), but if you're having persistent problems that require a professional plumber to fix, it may be time for a remodel and some new appliances.
To improve accessibility – If someone in your house is disabled or has a hard time getting around, remodeling your bathroom can really improve their quality of life.
For safety – A safety issue can be anything from a broken shower door to persistent problems with unhealthy (and potentially dangerous) mold and mildew. Sometimes a remodel is the best way to get to the root cause of these issues.
For a fresh start – Sometimes a room just becomes outdated (let's face it…we all need to refresh our look from time to time). If you are unhappy with your bathroom, fix it – it's one of the rooms you use most.
New Jersey Bath Remodel Pros
If you are thinking about remodeling your bathroom, don't wait! We'll help you choose from a huge selection of fixtures, colors and accessories – and we'll get your job done on time and on budget. Our expert contractors are bonded and insured, and they use only the finest materials in their projects.
Your dream bathroom is just a phone call away! Call Mark Lindsay and Son Plumbing & Heating today for a FREE, no obligation in-home consultation!
START YOUR BATH REMODEL NOW