Three Reasons To Get Your A/C Maintained Today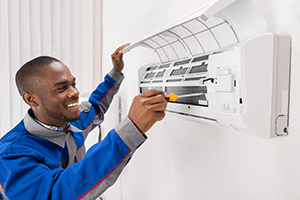 Most people take their A/C for granted – until it breaks down, usually on that classic hot, sticky New Jersey night when it's working hardest (and when you need it most).
Fortunately, you can avoid that sweaty scene and keep your home cool and comfortable all summer long by scheduling your annual air conditioning maintenance today.
Reliability isn't the only thing you'll get by giving your A/C a little TLC – you'll also get:
Lower bills – Without proper maintenance, your home cooling system loses five percent or more of its efficiency every year it runs – which means you'll pay more for it to do the same job.
Fewer repairs – Neglecting your A/C will almost always come back to bite you – in fact, it's estimated that about 80 percent of the most costly repairs could be avoided with proper maintenance.
Warrantee support – Most manufacturers require annual maintenance as a condition of their warranty, which means that without it, you might have to pay for needed repairs out of pocket – even if the unit is still covered!
No matter how you slice it, routine maintenance is a no-brainer investment for one of the most expensive and important comfort systems in your home – especially when it only costs $99!
Contact Mark Lindsay Plumbing today to schedule your annual A/C Service at our special low rate – And if you're ready for an A/C upgrade, we can help, too – contact us for a FREE estimate!