3 Reasons to Change Your AC's Air Filter Each Month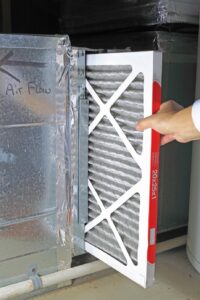 You probably know that you have a replaceable air filter installed in your West Milford air conditioning (and heating) system. And you've likely heard that you should replace it, from time to time. But if you don't notice any problems with the quality of the air you breathe, you may be unsure as to whether or not this is really necessary.
Most people associate air filters with air filtration: cleaning up the air of allergens to make it a little easier to breathe. But this isn't the only reason to change your filter each and every month.
Read on to learn more or give our West Milford HVAC pros a call today! We'll be happy to answer any questions you may have or take care of changing your filter and performing other AC maintenance in West Milford for you.
1) Clean Filters Protect Your AC/Heater, But Dirty Filters Do Damage
A filter can help to clean up your air of irritants and germs, but it also helps to protect your blower unit from damage. If large particles had a chance to pummel the air unit, they could do a lot of damage. The filter creates a barrier that keeps this from happening.
However, when you have an air filter that's been clogged with dirt over the months, it stops air from moving into the system. This can cause some damage, as the motors work harder in an attempt to get air in, becoming overworked and potentially breaking down sooner than it needs to.
2) You Pay Too Much
In addition, the dirty filter forces your air conditioner (and heater) to work harder to keep up, which means the systems need more energy to run. We know that a filter costs money, but those energy bills can add up too. And if a part breaks from all the extra work, you may end up paying to repair or replace it, when a new filter could have spared the component.
3) Your System May Have a Shorter Lifespan
Any extra strain on your air conditioner can have a major effect in the long run. If your AC system becomes overworked from all of the time it spends cooling down your home, parts wear down to nothing sooner, and you'll have to replace the unit before its lifespan is typically up. Changing the filter every month is a simple way to avoid this!
Help From West Milford AC Pros
Mark Lindsay and Son Plumbing & Heating Inc offers AC services in West Milford, NJ and the surrounding area. Call our friendly team today!
Learn More About West Milford AC Maintenance
Check out our blog posts below for some helpful info, expert tips and more!