Indoor Air Quality Service In West Milford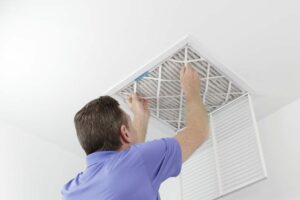 Here at Mark Lindsay & Son, our staff is comprised of professional technicians who are dedicated to making sure you are comfortable and have clean air at your place in West Milford. We can test the quality of the air, install a humidifier, dehumidifier, or air purification system, do duct work or air filter replacement, and anything else to help improve things at your property. Our crew of experts is available 24/7, 365 days a year to help handle whatever you need done, so place a call to Mark Lindsay when you need indoor air quality services in West Milford.
GET INDOOR AIR QUALITY HELP NOW
Indoor Air Quality Testing
If you have any concerns about how clean the air at your property in West Milford is, you can call us out to come and perform professional testing. We can use our specialist equipment to let you know if your air quality is fine or if there is a high level of particles floating around. If so, we can offer you a number of solutions for home air purification.
Help With Home Air Purification
Our staff can go over the options with you for improving the indoor air quality at your residence in West Milford. There are different ways that we can go about achieving cleaner air, such as installing UV light air purification or another kind of system to freshen the atmosphere. We can also perform humidifier installation or dehumidifier installation if the moisture levels inside are creating a problem.
The issues with your air quality could also be the result of a dirty or dusty HVAC system. Our team can perform duct cleaning, replace the air filters on your AC unit, and make sure that your vents are clear.
Our Indoor Air Quality Services
The tricky thing about improving on one's indoor air quality is the fact that there are so many different ways in which one's indoor air quality may suffer. Fear not, though, because we offer the comprehensive services that you need to overcome any issues that you may encounter with your indoor air quality in Clifton, NJ. These include:
We Install and Service Indoor Air Quality Systems
When you need designated air filtration systems installed, or a whole–house humidifier replaced, you need to call in a professional. Unlike portable air filters and humidifiers/dehumidifiers, whole–house systems must be integrated into your HVAC system as a whole. When we install your IAQ devices, the job will be done right. The key to a great performance form your indoor air quality systems is a great initial installation.
Certain indoor air quality systems are going to require some maintenance, as well. Air filters you can change out on your own, of course. For something like dehumidifier maintenance, though, you'll need the services of a trained professional. Let us make sure that all of your systems are functioning properly as part of your routine HVAC maintenance service. If your air quality is on the decline once more, we can also diagnose the problem accurately and complete any repairs that you may need.
West Milford's IAQ Experts
For help with indoor air quality, turn to the team of professionals in staff at Mark Lindsay & Son. We can help figure out if you are living in an unclean atmosphere and can offer a number of ways to improve the quality of air and therefore bring a better quality of life for you and your family. Call us for any kind of aid in West Milford!
CALL NOW FOR IAQ SERVICE