Which Thermostat Is Best for My HVAC System?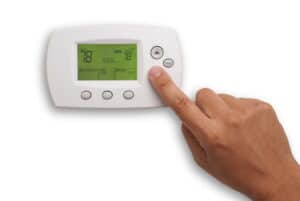 Heating and air conditioning equipment is not all the same. There are furnaces, air conditioners, heat pumps, and boilers of all different shapes and sizes. Some use the latest technology to provide the peak of efficiency, while others that are more budget-friendly require a little extra work and energy consumption.
Often, a thermostat is able to work with a number of different heating and air conditioning systems. However, that does not mean it is the best thermostat for your home. Get a thermostat that is more than just compatible. Find the perfect thermostat for your home by checking out our guide or talking to an expert West Milford, NJ HVAC contractor from Mark Lindsay and Son!
Variable Speed Blowers or Dual Stage Systems
The most efficient furnaces on the market are dual-stage systems, and the most efficient comfort systems have variable-speed blower fans.
Dual-stage furnaces are able to provide different heat outputs, lowering energy and fuel consumption at times when it's not necessary to provide 100% heating output to reach the temperature on the thermostat. Variable-speed blower fans are different, lowering the speed of the fan motor when the temperature only needs to change by one or two degrees.
Typically, a variable speed blower fan automatically adjusts as needed to keep temperatures within one or two degrees of the thermostat settings. However, you may need to use the thermostat to adjust fan speeds as needed for comfort, and for that you'll need a particular thermostat. Usually, we recommend going with one that is specially designed for use with your system, of the same brand as the variable speed system in your home.
Programmable Thermostats
We recommend that any homeowner looking to save on monthly heating and cooling costs gets a programmable thermostat that can be set ahead of time for better performance and efficiency.
Your current thermostat may be difficult to use, especially if it's a manual thermostat that you have to set using a dial or slider. Most AC systems and heaters, even most older ones, can be paired up with a programmable thermostat that helps you to save. By programming the thermostat to lower the temperature in the winter or raise it in the summer by 7-10° for 8 hours a day, you can save 5-10% on your annual bills.
Smart Thermostats
A Wi-Fi thermostat, or smart thermostat, is perhaps the most popular device in the new trend of "smart" homes. You are able to take more control over the climate inside of your home—even if you're not around. Program settings directly into your smartphone, or adjust throughout the day as needed. There are so many ways to take advantage of this innovative technology:
That work meeting runs on for longer than you expected. You grab your smart phone, make an adjustment, and delay the thermostat settings so that you don't waste energy heating a home when no one is there.
You turn off the air conditioner and show up to the kids' soccer game only to find out it is cancelled. Since you don't want to show up to a hot home, you adjust the temperature right from your phone so that you are comfortable when you arrive.
You leave the house on a two-day vacation, only to realize you haven't adjusted the thermostats. No worries! You have access to the thermostat schedule right from your phone.
West Milford Thermostat Experts
Regardless of the type of thermostat you're looking to install, the experts at Mark Lindsay and Son Plumbing & Heating are here to help! Schedule your appointment today!