Our November 2020 Employee of The Month: Marissa Pavlica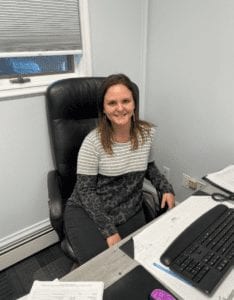 We're happy to share our November 2020 Employee of the Month Spotlight!
Let's meet and learn a little bit more about Marissa Pavlica!
How long have you worked at Mark Lindsay and Son?
I've been here for one year!
What is your role here?
I started working as a Customer Service Representative and over the last few months, I've been transitioning into a new role within the Contract Department.
Please tell us a little about yourself.
I am 29 years old and live in west Milford. I moved here about 5 years ago from Bergen County. When I am not at work I love spending time my family. We love being outdoors and do a lot of hiking, camping and fishing. I also love to read; I probably own over 100 books!
Tell us a little bit about your family!
I am the youngest of 3 children. I have an older brother who serves in the Marines and an older sister who works for Apple's corporate office. My father still resides in Bergen county where he owns his own electrical company.
I have been happily married to my husband for five years and we have a 7 year old son and a 3 year old daughter. We also have two dogs, Bailey and Franklin.